34: Frutigen - Niesen
The Niesen is at the end of the mountain range above Frutigen, overlooking Lake Thun The alpine meadows en route to the Niesen from Frutigen: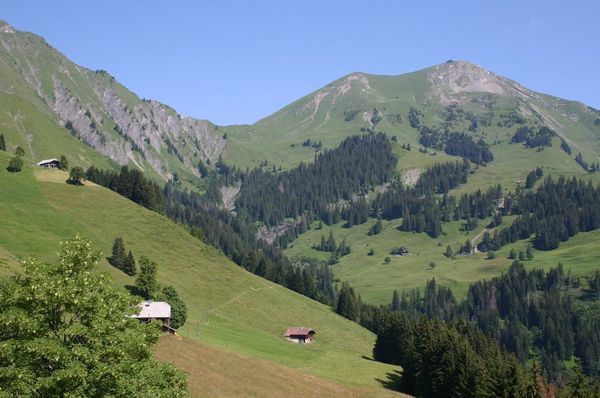 The top of the Niesen (Niesen Kulm) is nearly 1600m above the level of Frutigen station. There is a
funicular railway
that runs from Mülenen up to Niesen Kulm, with a halfway station at Schwandegg (so you can walk part way up or down if you choose). The walk between Frutigen and Niesen Kulm could be done either way, using the funicular railway for the other half of the journey. From Frutigen station, walk through the town, following signs for Eggweid and the Niesen. You pass through several small villages on the outskirts of Frutigen as you begin to climb up the side of the valley. The path is steep and lies through a mixture of woodland and meadow, crossing several streams, as you walk towards Eggweid, with wonderful views back down towards Frutigen and the Kandersteg valley beyond. Continue past Senggi towards Unter Niesen crossing the alpine meadow. Between Unter Niesen and Ober Niesen you begin to get views of Lakes Thun and Brienz with Interlaken between the two. At the farmhouse at Alp Ober Niesen you may find that you can buy local cheese (Alpkäse). The path zigzags up from Alp Ober Niesen to the saddle at Niesengrat where there are superb views back the way you have come, over Thunersee and Brienzersee, and down to the west into Diemtigtal and Simmental. The last part of the path follows a good but steep zigzag path up the ridge towards the restaurant at Niesen Kulm. It is usually this last section where the clouds begin to gather and obscure the views! The restaurant at Niesen Kulm offers a large sun deck and a superb glass-enclosed restaurant. Take the path up from the restaurant to the observation area where there are telescopes available. Unless you want another long walk down, take the Niesen funicular railway down to Mülenen - it runs every 30 minutes during the summer between 8:15 and 17:45, at 15 and 45 past the hour, taking 30 minutes to do the journey (2011 times). Be aware that at Mülenen it takes nearly 10 minutes from the bottom of the Niesen railway to the platform where the BLS train stops - you will not catch the train at 17 past the hour to Kandersteg (again on the 2011 timtable) if you leave Niesen Kulm at 45 past the hour! This is a very long climb (or descent) with brilliant views from many vantage positions on a good day. The Niesen funicular is an experience not to be missed. Be aware that there are no restaurants on the route between Frutigen and Niesen Kulm so you need to carry plenty of food and water. The walk takes about 6 hours with occasional stops for lunch and viewing.
JaneCurry
- 2011-05-17 - 10:59