61: Selden - Gfallalp - back via Selden Hotel Steinbock
A must-do walk from Kandersteg up the
Kander Klus
(waterfall) and along the high-level
Gasterntal
valley.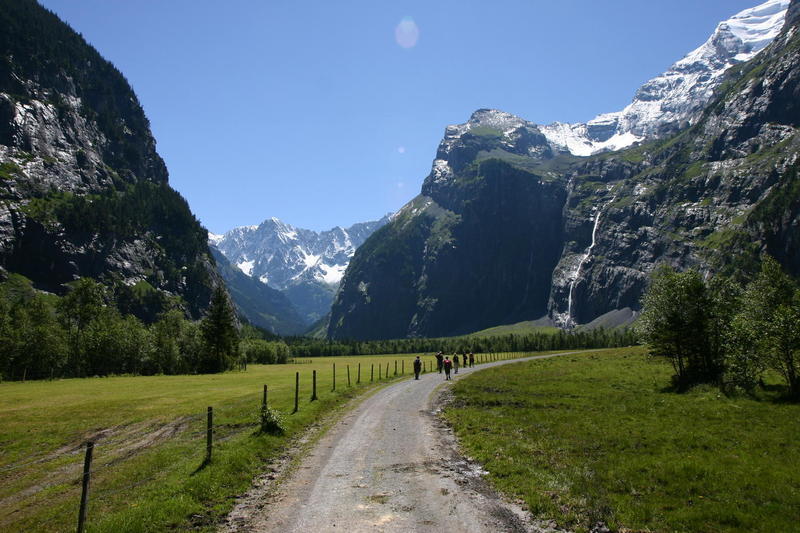 Walk to the end of the Kandersteg village road to the Sunnbüel cable car base station and continue past, bending around to the left. The walk climbs beside the Kander Klus waterfall to open out into the magnificent Gasterntal valley, just before Waldhus. The valley has a number of dramatic waterfalls that pour out of the side of the mountain, fed from the Balmhorn above; the Geltenbachfall just beyond Waldhus can be especially powerful. About an hour along this high-level valley you reach the third bridge across the Kander River. Here the path climbs again through woodland for about 15 minutes to join the road into Selden. You may find alpine strawberries along this section in July, and the wild flowers can be amazing - the meadows are harvested for hay much later than in Kandersteg. . You can stop at Selden or go on up for another 50 minutes to Berghaus Gfellap with wonderful views over to the Kanderfirn glacier. If you are going to Berghaus Gfellalp, there are two options just after you join the road at the top of the woodland climb; you can take the right-hand fork at Chalet Weidli and bypass Selden village to reach the base of the Gfellalp waterfall. This cuts off a small corner. Alternatively, continue on the road into Selden and then take the path down to the suspension bridge to cross the Kander River and join up with the other path at the base of the waterfall. Watch out for Martagon lilies and Trollius (butterball) buttercups. The walk is fairly easy, with about a 20 minute climb up the Kander Klus waterfall, 15 minutes in the woodland climb and about 50 minutes climb from the Selden suspension bridge to Berghaus Gfellalp. The distance is about 10km from the centre of Kandersteg to Selden and less than 1km further
distance
to Berghaus Gfellalp, although it is a 300m climb! Kandersteg to Selden is signed as 2 hours 30 minutes with an extra 1 hour from Selden to Berghaus Gfellalp. You will want extra time for the breathtaking views at Berghaus Gfellalp so plan on at least an 8 hour day. Refreshments are available at Waldhus and there are two restaurants in Selden. Berghaus Gfellalp used to be open to the public offering food, liquid and beds but more recently it is has been taken over by the scouts so no longer provides for the general public. Transport is available from the centre of Kandersteg to Eggenschwand near the Sunnbüel cable car station, using the
Kandersteg Village Bus
(
http://www.kandersteg.ch/english/sport/bahnen_ortsbus.html
). If you really want to cheat, there is the
Gasterntal Bus
service (
http://www.kandersteg.ch/deutsch/sport/pdf/gasterebus_09.pdf
) which will take you all the way to Selden and back. If you
do
cheat, walk up and ride back - the view is magnificent as the valley opens out at the top of the climb up the Kander Klus waterfall.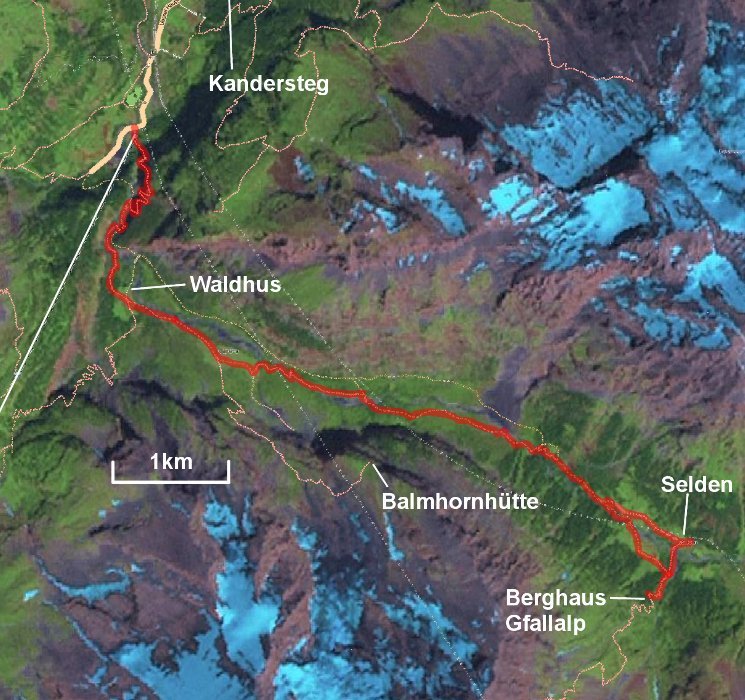 JaneCurry
- 2009-05-28 - 18:43