57: Balmhornhutte
"Nur für schwindelfrei" - but it's not that bad really! Approaching the Balmhornhütte: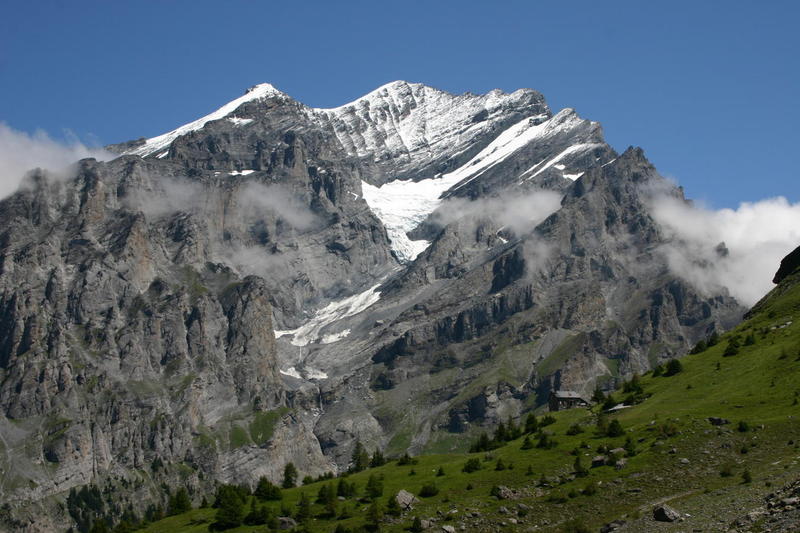 We avoided the Balmhornhütte for many years as it comes with a warning "Nur für schwindelfrei" - only for those with a good head-for-heights (and I am NOT schwindelfrei!); however, when we finally attempted it, the narrow and steep section provides a rope hand-hold and indeed was not a problem. The hut lies on a plateau way above the Gasterntal at the foot of the Balmhorn glacier. Start from Kandersteg and walk to the end of the valley by the Sunnbüel cable car, continuing around to the left to climb the path beside the
Kander Klus
waterfall to emerge into the Gasterntal valley shortly before Waldhus. Follow the path along the Gasterntal until you reach the distinctive wooden sign for the Balmhornhütte, pointing off to the right. It appears totally impossible that there could be a path up the side of the mountain here, but the path passes through light woodland and starts to climb on a good path with excellent views back down into the Gasterntal. About 40 minutes after you start climbing you reach a welcome seat; another half hour brings you to the second seat. At this point, you have nearly done most of the climb; you are aiming for an obvious ledge and the hut soon comes into sight away to the left. Unfortunately, it is one of those walks where you can see the destination a long time before you actually arrive and when you reach the plateau, the path takes a wide sweep around to cross a waterfall, before arriving at the Balmhornhütte. It is a well-founded hut that usually offers accommodation, food and drink - check at the sign on the Gasterntal whether there is currently a hut warden in residence. The views down into the Gasterntal and up to the Balmhorn are stunning. This walk is a hard climb gaining nearly 200m from Kandersteg to the Balmhornhütte sign in the Gasterntal, and gaining nearly another 600m on the climb to the hut itself; however, horizontal distances are not too great - about 8km in each direction from the centre of Kandersteg to the Balmhornhütte. If the timing is good, you can use the
Kandersteg Village Bus
(Ortsbus) from the centre of the village to the cable car station, which saves half an hour in each direction. It is a good hour from Kandersteg to Waldhus and the Balmhornhütte is signed as 2 hours from there (and again signed at 2 hours, 15 minutes later at the wooden sign along the Gasterntal!), so allow at least 3 hours each way, plus plenty of time to absorb the atmosphere at the hut.
JaneCurry
- 2009-06-19 - 12:04