4: Jegertosse - Doldenhornhutte
This is the "big walk" way to get to the Doldenhornhütte The view from Jegertosse across the Gällihorn to Tschingellochtighorn (the 5-fingered peak):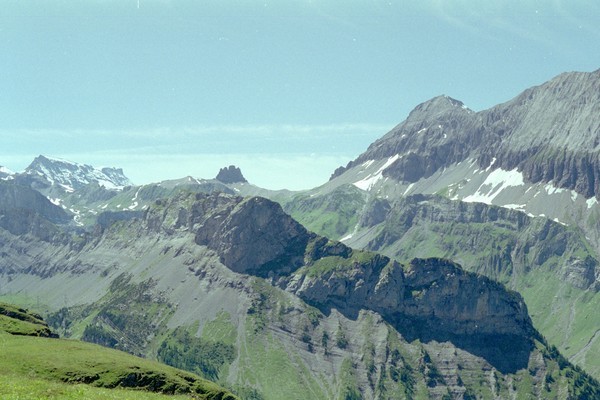 This is a long walk with at least 1000m of climb. There are easier ways to get to the Doldenhornhütte but Jegertosse is a wonderful viewpoint with a magnificent carpet of alpine flowers. The walk starts along the main road towards the end of the valley but turn left to the Waldhotel Doldenhorn (by the big wooden spoon!). The path starts at the end of the road and climbs steeply through the forest with occasional glimpses back down into Kandersteg. As you near the top of the climb the alpine flowers are abundant with particularly good Alpenrose and Aquilegia. When you reach the avalanche protection, turn right at the hut at Fisischafberg to go to Jegertosse - it's about another 20 minutes. From the vantage point at Jegertosse you can see down into the Gasterntal, the Gemmi and the Kandersteg valley. Be aware that there are no restaurants and precious little shelter on the walk so far. Return to the junction at Fisischafberg and continue along the fairly level path until you reach the farmhouse on the Fisialp. Although they have a water trügli here, there is still no refreshment available on the walk. The path turns left and winds down a very steep path (which the cows come up to their summer home!). This part of the route is now signed as an alpine route in white-blue-white markers; it is narrow and steep but a rope hand-hold is provided at the steepest part. The alpine route brings you down to the lightly wooded plateau, 15 minutes away from the Doldenhornhütte. A gentle climb, again through a particularly good display of Alpenrose, brings you to the hut where refreshments are available. The route home to Kandersteg goes back 15 minutes to the junction. The path to the Fisialp is marked as the "Steilerweg" (steep way); to return to Kandersteg, turn right down the path through the woodland to Biberg. At Biberg turn right to follow the path down, eventually beside one of the many Oeschibach waterfalls, reaching the valley at Bärentritt. It is about a 25 minute walk down the valley paths and roads to the centre of Kandersteg. The total distance will be around 14km but the height gain of 1000m is much more significant. Allow 8 - 9 hours for the day to provide resting time to admire the views at Jegertosse, Fisialp and at the Doldenhornhütte. If the weather deteriorates at Jegertosse then return to Kandersteg the way you have come rather than taking the alpine route across the Fisialp to the Doldenhornhütte.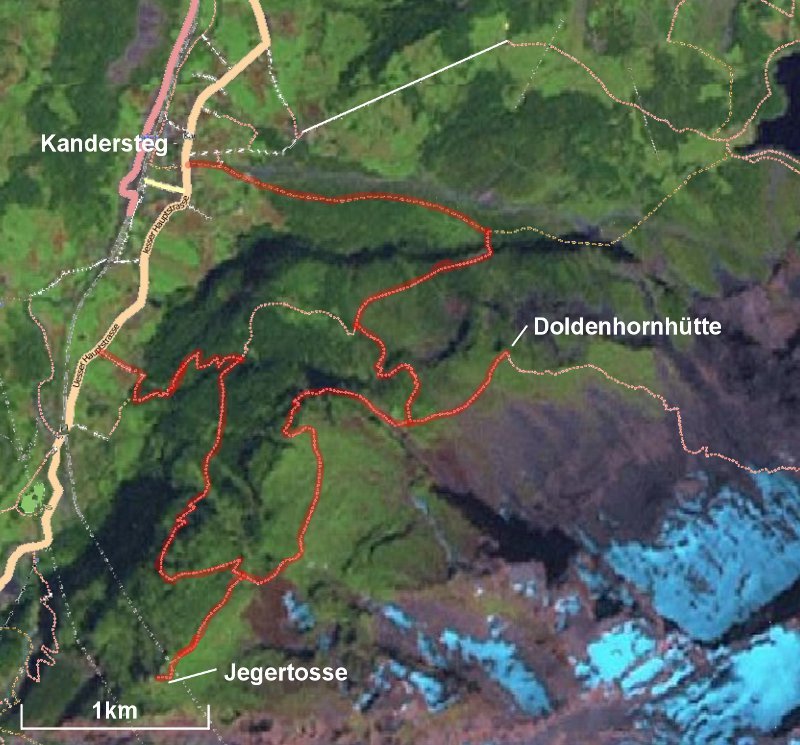 JaneCurry
- 2009-06-05 - 10:48