20: Sunnbuel - Schwarenbach - Schaferfest - Gemmipass and return
The Schaferfest is the annual sheep festival held on the Gemmi every year, usually on the last Sunday in July.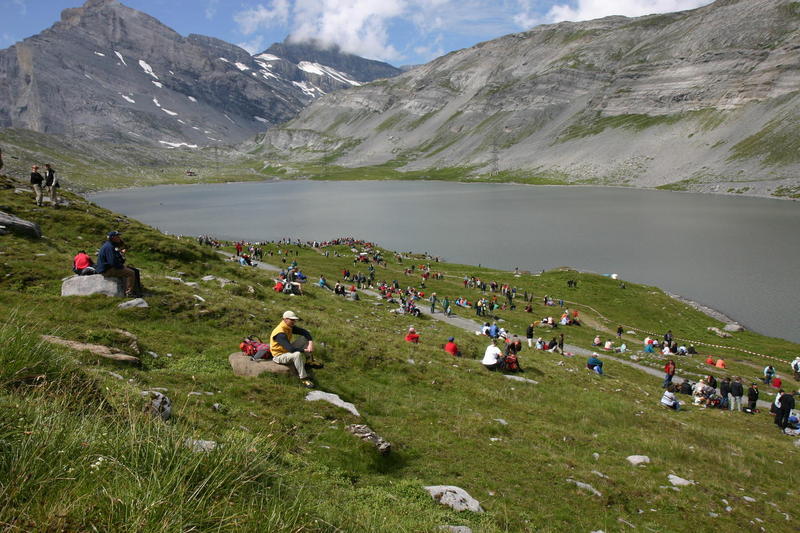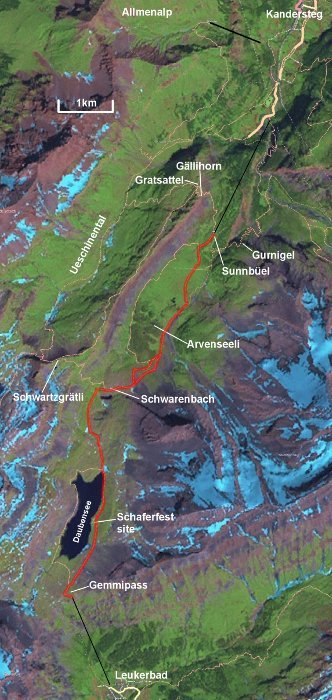 The Gemmi is an excellent walk whenever the weather is good. The entire route is on a wide gravel track with easy gradients. Refreshment is available at Berghotel Schwarenbach half way between Sunnbüel and the Gemmipass. On a clear day, the view from Gemmipass over the southern Alps is magnificent and Hotel Wildstrubel has a café terrace overlooking the valley. You can get the Gemmipass cable car down to Leukerbad and take the bus and train back to Kandersteg. Alternatively you can return back along the Gemmi, either using the same path or divert around the west side of the Daubensee for a slightly longer variation. Arvenseeli, about 25 minutes from Sunnbüel, is also worth exploring if you have time, with its stunning blue lakes. The walk starts from Sunnbüel, which can be reached by bus then cable-car from Kandersteg. It is about 9km to the Gemmipass with a steady climb for 10-20 minutes up to Schwarenbach, climbing again for 15 minutes to the Daubensee, and a steady but fairly gentle climb from the southern end of the Daubensee up to Gemmipass. The alpine flowers are particularly good around Sunnbüel and you can find the glorious blue of the alpine gentians in several places along the pass. Sunnbüel to Gemmipass is signed as 2 hours 20 minutes with Schwarenbach roughly half way. The return journey is similar. The Schaferfest is held beside the Daubensee, about 45 minutes along the Gemmi from Schwarenbach. Typically there will be a dance band, jodelers and alpenhorns. Beer, wine and soft drinks are available as are bratwurst and raclette. At 11:30 a.m. the shepherds drive hundreds of sheep down from the high alp to the lakeside, where salt and sheep-nuts are laid out. The traditional tug-of-war between Wallis and Bern takes place after lunch. The cable-car is very busy on the day of the Schaferfest, so start early if you want to see the sheep pouring down the mountain.
--
JaneCurry
- 2009-06-06 - 18:06