18: Kandersteg - Waldhus - Gurnigel - Arvenseeli - Stock - Eggenschwand
Gurnigel is a delightful hidden gorge between the Gasterntal and the Gemmi. The stream at Gurnigel: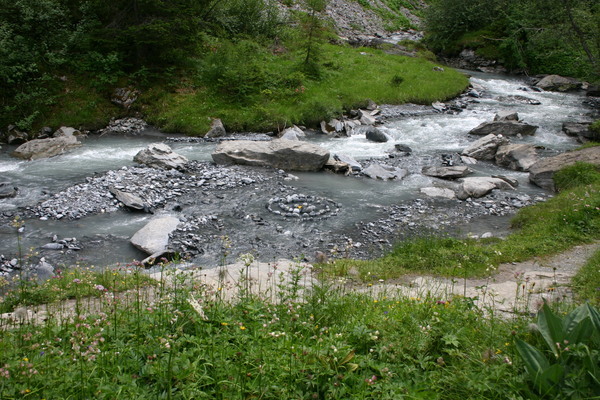 This walk has lots of variations depending on how strenuous you feel. The highlight is the stream at Gurnigel where the alpine flowers and butterflies surpass most other places. Starting from Kandersteg, walk to the end of the valley by the Sunnbüel cable car (or catch the
Kandersteg Village Bus
). Walk to the left of the cable car station, bending to the left to cross the bottom of the
Kander Klus
waterfall. Continue up the Kander Klus until the path opens out magically into the Gasterntal. Follow the path through the woods to Waldhus where there is a restaurant. The path to Gurnigel forks here from the main Gasterntal valley, through light woodland to start climbing beside a waterfall where amazing rainbows can often be seen. The way from here is a steep climb for at least 1 hour (don't believe the sign that says 45 minutes!). You pass through a rock arch shortly before the path starts to descend into the gorge at Gurnigel. Gunigel is an idyllic spot for lunch. This path is often very quiet as there is no restaurant between Waldhus and Sunnbüel and the climb is fairly hard, but well worth it. Spray from the waterfalls and stream keep Gurnigel particularly lush and the flowers are amazing, constantly visited by clouds of butterflies. Don't do this walk on a poor day - it needs the sunshine to best appreciate the beauty of this spot. For an easy day, take a book as well as lunch and relax beside the stream. To reach the Gemmi, continue up from Gurnigel for about 20 minutes, again climbing steeply, to reach the main path from Stock to the Gemmi, at Stierenbergli. From here there are several options. You can walk up to Sunnbüel in less than 30 minutes and take the cable car down. You can follow the path left to the Gemmi and explore Arvenseeli's blue lakes before returning to Sunnbüel; or you can turn right along the path to Stock and walk down the good (but steep) path back down to Eggenschwand at the base of the cable car and thence back in to Kandersteg. The timings given here encompass both Arvenseeli and the walk down from Stock. It is about 30 minutes from Stierenbergli to Arvenseeli, about 1 hour back from Arvenseeli to Stock and another hour down the steep track to Eggenschwand. The vertical height gained from Eggenschwand through Gurnigel to Stierenbergli is about 650m hard climb, with another 100m gently gained if you continue to the Gemmi and Arvenseeli.
JaneCurry
- 2009-06-10 - 11:43