16: Allmenalp - Ueschinen - Schwarzgratli - Schwarenbach - Arvenseeli - Sunnbuel
A walk that takes in both the Ueschinental and the Gemmi. The view back along the Ueschinental from Schwarzgrätli: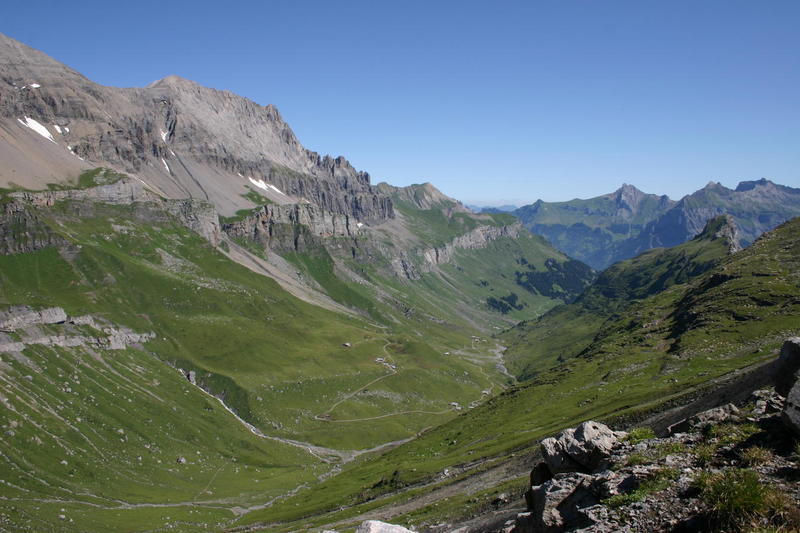 A walk that covers a lot of ground including one fairly hard climb up to Schwarzgrätli. Start by taking the cable car to the Allmenalp and follow the path, curving left, towards the Ueschinental. There are wonderful views of the Blümlisalp range and the Oeschinensee. There is a restaurant about 15 minutes along the path from the top of the cable car at Steinweidli. As you crest the small summit on the path at Ryharts and start to descend, the whole Ueschinental valley opens out before you. Löhner restaurant at Ueschinen provides another refreshment opportunity and, if necessary, you can descend back to Kandersteg from here, either down the path or down the restricted road that serves the Ueschinental valley. Follow the path along the Ueschinental passing the path on the right up to Alpschelenhubel, Chlyne Lohner and Bunderschrinde, and the path on the left that takes you up to the Gällihorn. The path rises very gently until you reach the end of the valley a little beyond Unterbachen. The route to Schwarzgrätli is a fairly hard climb for about an hour and a half but the path is generally good and zigzags well. 15 minutes from the top you pass the sign for Tällisee; continue to the left for Schwarzgrätli. When you reach the summit you are rewarded with excellent views of the route that you have travelled so far, plus superb views along the Gemmi and across to the southern Alps. In July, gentians and alpine pansies can be found mixed amongst the carpet of alpine flowers. Just below you on the Gemmi side is a stunning blue alpine lake. The way from here descends for about 40 minutes to Berghotel Schwarenbach where refreshments are available (their fruit tart is excellent!). Return to the Sunnbüel cable car along the Gemmi. If you have time, take a detour around the blue lakes at Arvenseeli where you may find alpine marmots in addition to a wonderful flower display. The walk covers about 14 km with a 500m climb up to Schwarzgrätli and needs to be timed to ensure you catch the last cable car from Sunnbüel - otherwise you have a long walk back down into Kandersteg! Plan on an 8 - 9 hour day to enjoy everything.
JaneCurry
- 2009-06-08 - 09:38
The Almenalp-Schwartzgratli route: