1: Freundenhutte
WARNING
The route described here has been closed since early 2020 due to an unstable area of mountainside.
There is another route to Fründenhütte but it is only suitable for mountaineers.
The old walk description
This follows one of the best paths in the Alps to reach Fründenhütte high above the Oeschinensee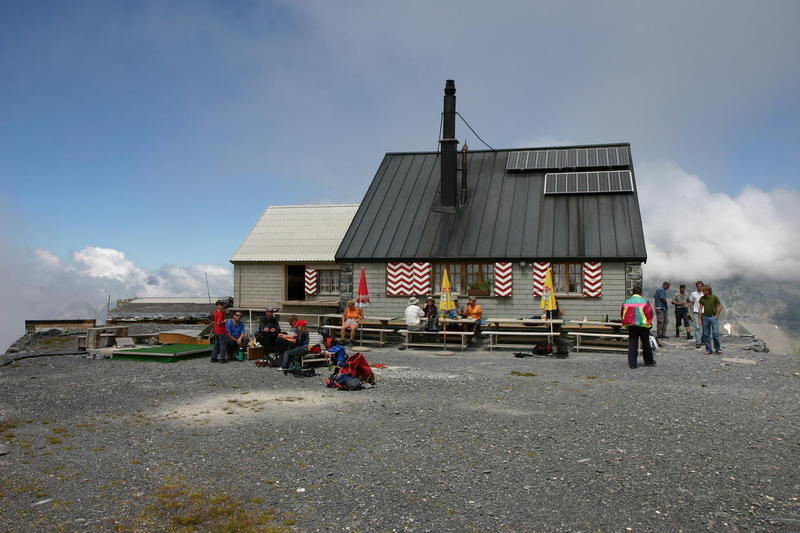 This is a strenuous walk, gaining 1000m using a superbly built path which zigzags its way up from the Oeschinensee. There are excellent views over the lake most of the way up. The path from the Hotel Oeschinensee descends to the lake and follows the shore through sparse woodland to the base of the climb. As you gain height, the vegetation becomes grass and alpine flowers. A natural rest point is beside a large rock with a white-red-white round marker (the "target" rock). From here, the path gets rather steeper with less grass and more rock but the zigzags continue until you reach a massive rock face. A path is cut into the rock with rope hand-holds to bring you to the last part of the climb up to Fründenhütte. Only small alpine flowers survive along the rock path now. You pass the Fründenhütte water butt about 10 minutes before you get to the hut itself. From afar, the way looks impossible but the path is excellent, providing rope hand-holds on the few occasions where it is particularly steep at the top. You cannot see the glacier until you actually reach the hut and you then find that you are looking
down
on it. The Oeschinensee gondelbahn from Kandersteg takes you up the first 400m, providing panoramic views of the peaks west of Kandersteg. The distance walked is barely 4km each way, and a third of it is covered in the first 25 minutes from the top of the gondelbahn to the Oeschinensee itself. Fründenhütte is signed as 2 hours 45 minutes from the Oeschinensee so plan on 6 - 7 hours walking in total. There are some magnificent waterfalls that you cross on the way up. Watch out for steinbock on the higher part of the zigzag path - there are usually a few around. Refreshments are available at the top of the chairlift, at the Oeschinensee and at Fründenhütte.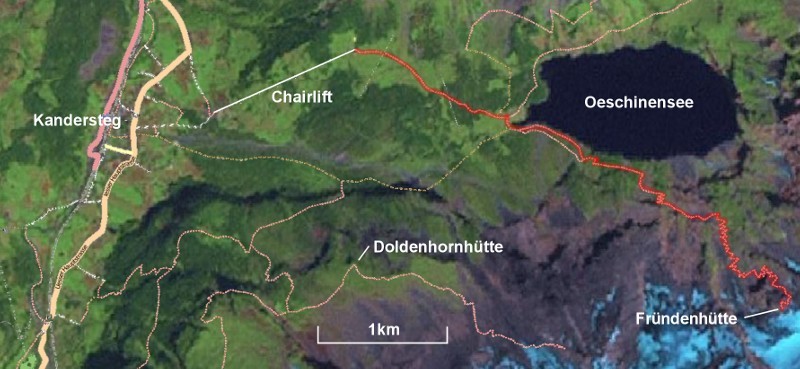 JaneCurry
- 2009-06-04 - 12:46