Morgenberghorn
A walk with the most superlative views over lakes and mountain ranges.
The Jungfrau range from the top of Morgenberghorn: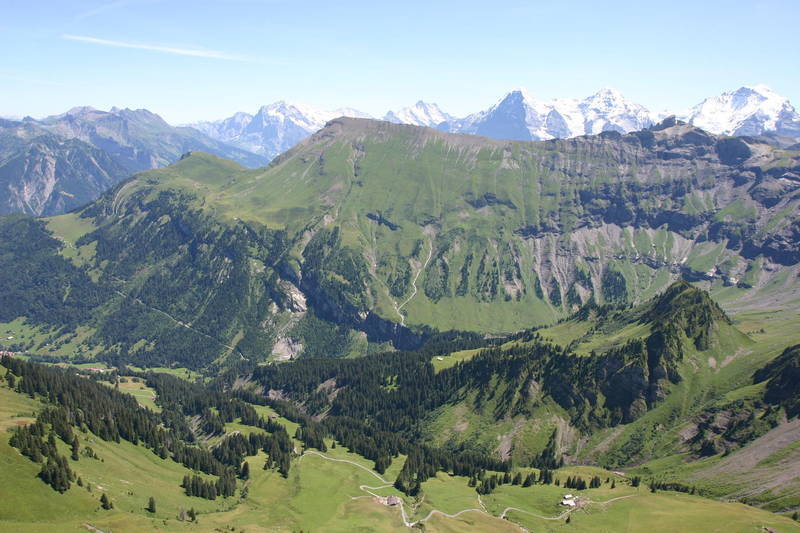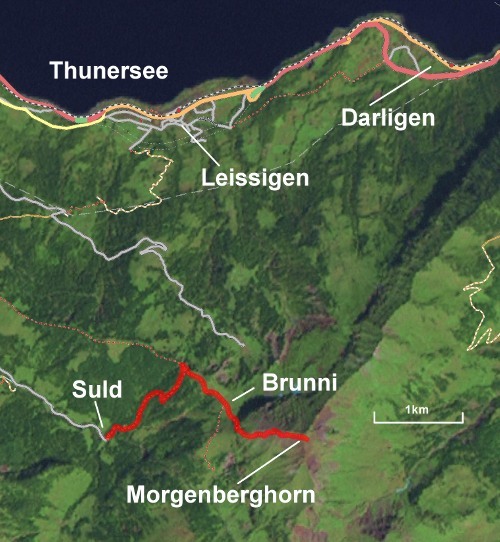 This walk needs a car to get to Suld if you are starting from Kandersteg. Go down valley through Reichenbach and Mülenen and follow the road to Aeschi. In Aeschi, turn southeast for Suld; there is plenty of room to park. Although there is a bus to Suld (
http://www.aeschi-tourismus.ch/data/download/Fahrplan%202010%20A4.pdf
), it only runs Saturdays and Sundays and doesn't run frequently enough to leave time to climb Morgenberghorn. The walk starts through the shady woods of Suld, crossing the river, following signs for Brunni (indeed there are two routes to Brunni from Suld but this route climbs straight up through the woods). You will already get glimpses of Lake Thun from the path. It takes about 1 hour 40 minutes to reach the plateau and farmhouse at Brunni where refreshments are available. From Brunni, follow the grassy path up towards Morgenberghorn with amazing views now of Lake Thun, Lake Brienz and Interlaken. Parts of the route are a steep scramble but a chain is provided for extra handholds. There is no shade at all after Brunni so ensure you are well protected from the sun and carrying plenty of liquid. As you approach the ridge, a vista of mountain tops opens out, both to the Jungfrau range and to the Blümlisalp range. The last part of the route to the summit is not so steep, the path zigzagging over a grassy alp. Although there is no hut or restaurant at the top of Morgenberghorn, allow plenty of time to absorb the amazing views of lakes and mountains. Return via the same route or you could make it a circular walk by returning to Suld via Renggli.
Time
Height
Location
Comment
09:45:00
1080
Suld
Plenty of car parking
10:15:00
1260
Sign at junction
Follow black dashed path
11:00:00
1540
Sign at junction
11:25:00
1644
Brunni
5 mins rest
13:15:00
2248
Morgenberghorn
60 mins for lunch
14:15:00
Depart Morgenberghorn
15:25:00
1644
Brunni
15 mins rest
15:55:00
1540
Sign at junction
16:25:00
1260
Sign at junction
16:50:00
1080
Suld
--
JaneCurry
- 2010-05-24 - 13:13