Chindbettipass - Rote Chumme - Schwarenbach - Sunnbüel
This is a long day starting from the Engstliegenalp and crossing two passes - Chindbettipass and Rote Chumme. The view over Tällisee from the Chindbettipass path: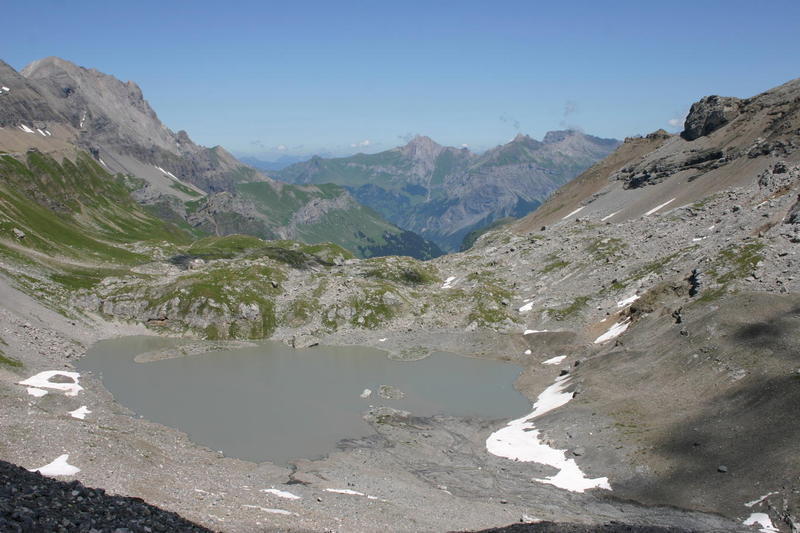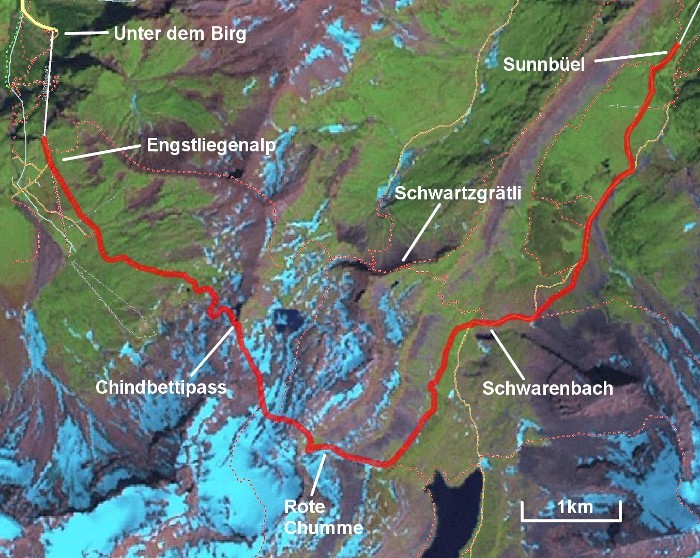 This walk starts by taking the bus around to the Adelboden valley and then walking back over the passes to return to Kandersteg via the cablecar from Sunnbüel. In 2010, the bus leaves Kandersteg railway station at 8:59 and goes straight through to Adelboden. You need to get off before the centre of Adelboden at Adelboden (Oey) where there is an excellent connection with the bus to Unter dem Birg, arriving at Unter dem Birg cable car at 10:13.The cable car runs every 20 minutes from 8:15 until 17:55 with an hour break for lunch. Arriving at the top of the cable car, the large grassy bowl of the Engstliegenalp is spread out before you. The walk starts gently crossing this bowl to the signpost at the base of the climb up to Chindbettipass. This is at 1973m and you have a 650m climb up a zigzag path to Chindbettipass, passing Dassensee about an hour into the climb. It is nearly another hour to the top, climbing with Tschingellochtighorn (the 5-fingered peak) on your left. The view from Chindbetti pass is magnificent back down into the Engstliegenalp and east over Tällisee in the next valley. On a clear day you can also see the southern alps in the distance. Follow the path down across the shale into the valley above Tällisee, passing the sign for the alpine route to the Lammernhütte; there will almost certainly be snow in this high valley. After crossing the stream you can either take the path to Tällisee and back to Kandersteg via Schwarzgrätli, or you can climb a hard 100m out of the valley to the top of Rote Chumme. The way down starts steeply with glimpses of the Daubensee. You can either keep to the path until you reach the Daubensee or take the left fork in the path and follow the contours along a fairly easy path until you can see Schwarenbach beneath you on the Gemmipass. Descend down to Schwarenbach - this is the first opportunity since leaving the Engstliegenalp for refreshments. Schwarenbach to Sunnbüel is an easy walk along the Gemmipass, taking around an hour, and take the cable car back down into Kandersteg. If you have had a long day, you may manage to connect with the local village bus to save you the half-hour walk back into the village.
Time
Height
Location
Comment
09:00:00
1175
Kandersteg - Hotel Blümlisalp bus stop
10:15:00
1400
Unter dem Birg bus stop
Cable car runs every 20 mins
10:35:00
1955
Cable car top station
11:00:00
1973
Sign at base of climb
5 mins rest
12:00:00
2350
Dassensee
12:50:00
2623
Chindbettipass
15 mins to enjoy view
13:35:00
2520
Valley head above Tällisee
30 mins for lunch
14:30:00
2613
Sign at top overlooking Rote Chumme
15:25:00
2302
Sign at junction
16:15:00
2060
Schwarenbach
20 minutes for beer
17:25:00
1936
Sunnbüel
17:40:00
1200
Ortsbus stop at Eggenschwand
Ortsbus at 18:00
JaneCurry
- 2009-06-12 - 17:20