29: Kandersteg - Nord Rampe - Kiental
The Nord Rampe is a relatively easy walk from Kandersteg around to Kiental. The view up towards Kandersteg from the Nord Rampe Höhenweg: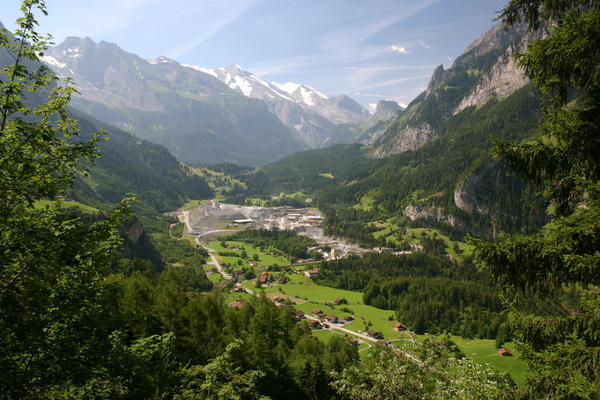 The Nord Rampe follows the railway down valley from Kandersteg towards Frutigen before turning higher and eventually rounding the point above Lake Thun to turn towards the chairlift at Ramslauenen above Kiental. Start either by following the road down valley out of Kandersteg or you can take the path to the left just past the Hotel Alpha Soleil (after admiring the hotel's herb garden!); the path rejoins the road by the old milestone to Bern. The Nord Rampe goes off to the right beside the railway and you may find alpine raspberries here in late July. The path weaves in and out of several small valley cuttings and provides good views of Mitholz and Kandergrund in the valley, with the old fortification of Felsenburg between the two. There are several signposts along the way including two at Ronewald 10 minutes apart! Above Kandergrund with its power station stock pipes, the path climbs fairly steeply to the Restplatz at Bundergrabe - this is a good place for lunch with a shelter, a water trügli and a loo (but no restaurant). The steep path before Bundergrabe is a good place to find alpine strawberries. The path climbs again from Bundergrabe to reach the open high-level alp called Schlafegg where the path joins the alpine road for a short distance. The path continues fairly level until a short descent and climb up to Chüeweid where there is a welcome seat. On a clear day you have good views over to Lake Thun. From Chüeweid you can continue on the Nord Rampe around to the chairlift at Ramslauenen which will take you down to Kiental. The Post Bus takes you to Reichenbach and the BLS train or bus takes you back to Kandersteg. Beware that from 2007 the connections between the Post Bus from Kiental and the train / bus on to Kandersteg is very badly timed with a 50 minute wait in either Reichenbach or Frutigen. If the transport times defeat your schedule, an alternative route from Chüeweid is to take the path directly towards Lake Thun, through Aris and Kien into Reichenbach. Chüeweid to Aris takes about one and a half hours with another 40 minutes from Aris to Reichenbach or another hour and a quarter from Aris to Frutigen. The Nord Rampe from Kandersteg to Ramslauenen is about 16 km with short sections of ascent and descent with the highest point at Unter Gehrenen at 1607m, a rise of approximately 400m above Kandersteg. The path is good, meandering through a mixture of woodland and alpine meadows. The Nord Rampe from Kandersteg to Ramslauenen is signed as 6 hours 20 minutes but you need to check transport times carefully as the Post Bus from Kiental typically only runs every 2 hours.
JaneCurry
- 2009-06-08 - 12:14